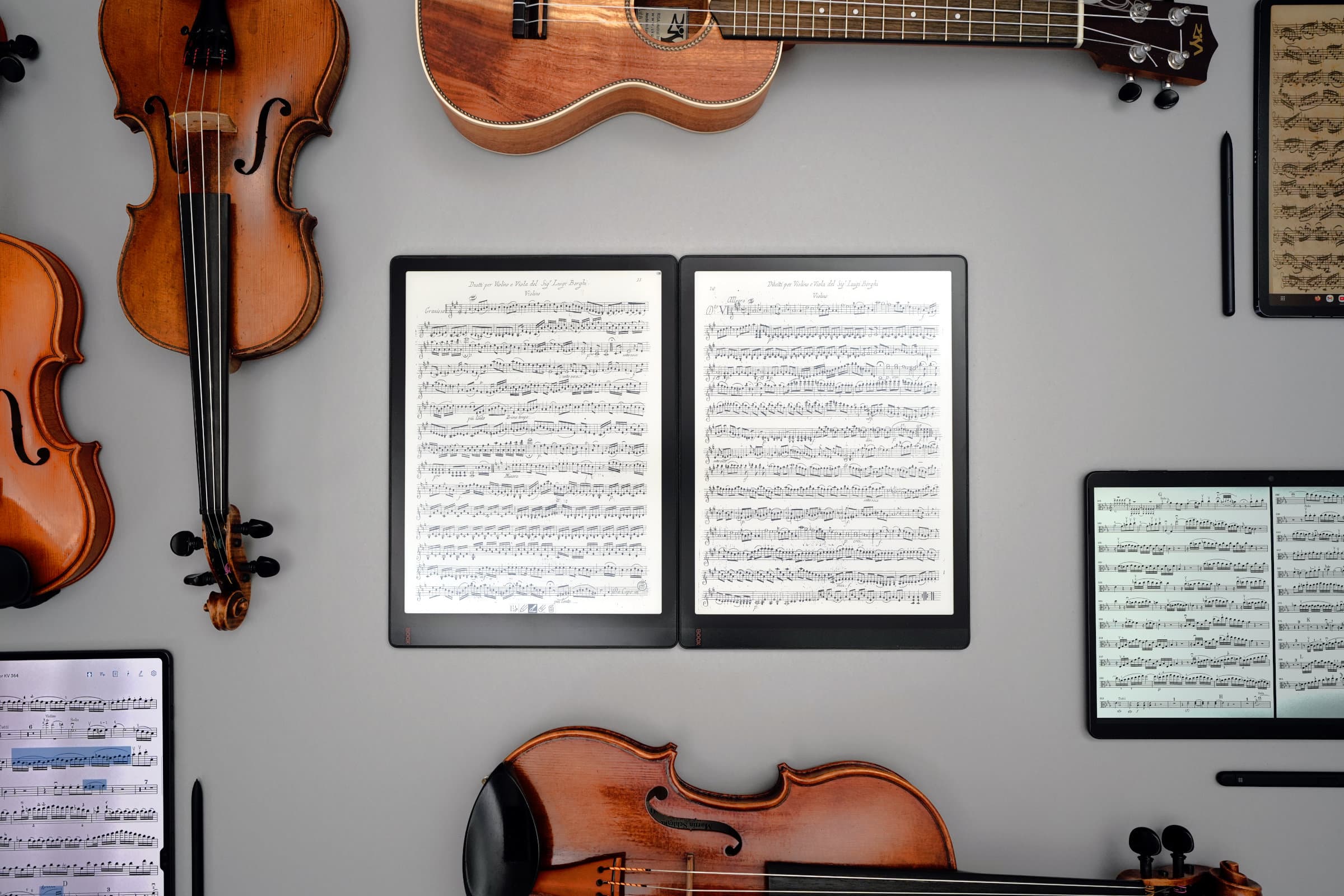 Photo: tablets-for-musicians.com
The best e-readers for musicians in 2023
Last updated on September 15, 2023
An e-reader can help professional and amateur musicians organize and read sheet music and scores. When practicing and performing, the music can be played from the e-reader without having sheets of music flying down. Page-turning problems and stacks of sheet music are a thing of the past.
In 2023, new large format e-readers have hit the market, one of which was designed specifically for musicians. In this article, I will take a closer look at which e-readers are the best for a musician's daily use, including practicing, rehearsing, and performing.
I am registered with the Amazon Associates Program. This website contains Amazon affiliate links (marked with a star). If you click on one of these links and make a purchase, I may receive a commission from Amazon.
Clicking on an affiliate link does not change the price you pay, and will help me continue to test tablets and e-readers. Thank you for your trust and support!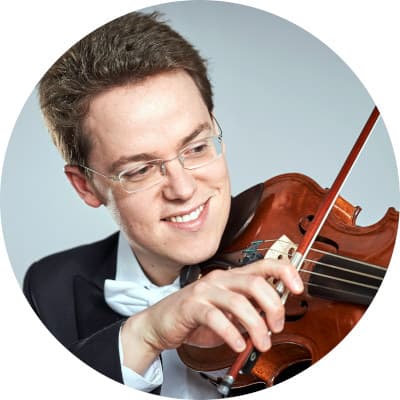 I am a classical musician (violist) with 20 years of professional experience in orchestra and chamber music. For many years, I have been advising colleagues, students, and fellow musicians in the choice of their tablet.
Along with the many positives of using tablets, I've also seen the negatives: tablets crashing just before going on stage, batteries that don't hold up during long rehearsal days, and missing page turner pedals in concert.
I spent my school years in France, and this article must be riddled with spelling and grammar mistakes, for which I apologize. Feel free to send me any corrections!
There is no test protocol! I use the most different tablets possible in my real life as a musician, which includes practicing, rehearsing and playing concerts.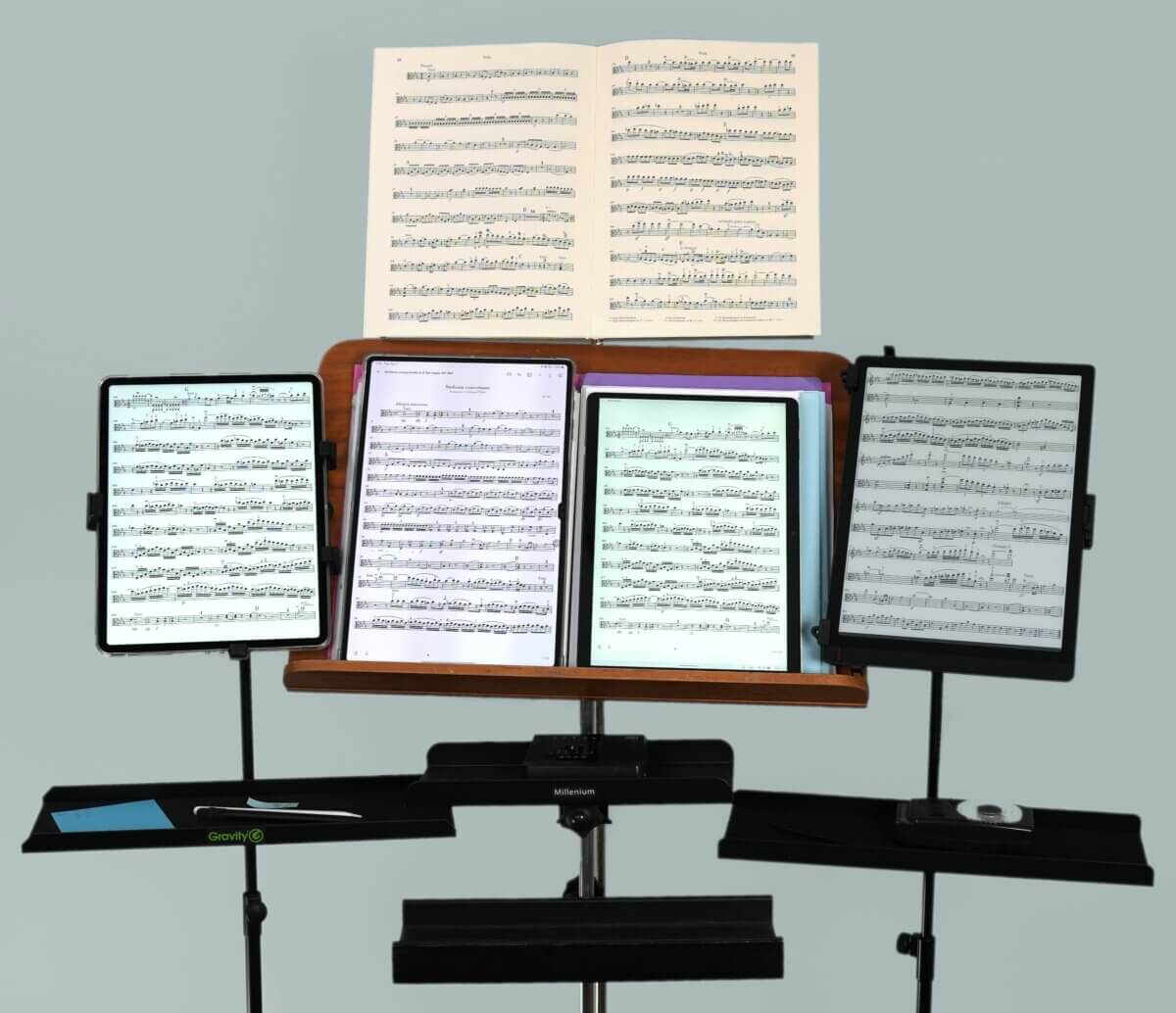 Practicing with multiple tablets at the same time can be laborious. Photo: tablets-for-musicians.com
The tablets and e-readers are purchased with my own funds and used as long as I please. This means that my tablet reviews are always independent, long term and real life reviews.
First, let's highlight the difference between e-readers and tablets when it comes to displaying sheet music. Despite their many advantages, tablets often have glossy displays that can cause glare or reflections.
This can make reading sheet music difficult in bright environments (outdoor concerts) and cause problems with reflections from lamps or spotlights.
E-readers, on the other hand, use electronic ink technology (E-ink) that minimizes glare and allows for more comfortable reading, even when performing in direct sunlight.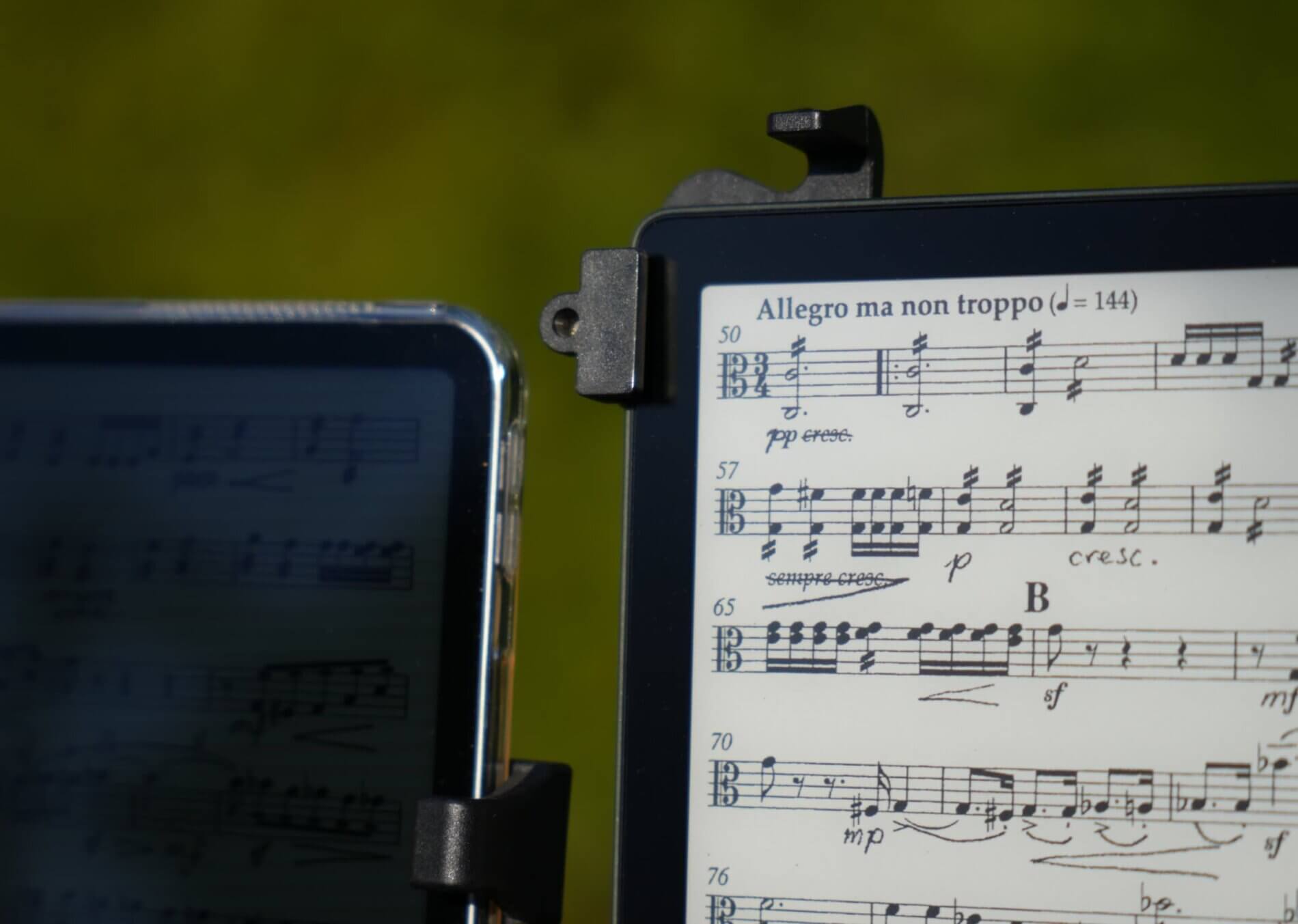 Outside, e-readers fare much better than tablets. Here an iPad Pro (left, maximum brightness) in full sunlight next an e-reader (Boox Tab X, right) – unedited picture. Photo: tablets-for-musicians.com
Which display sizes are suitable for reading sheet music?
The largest e-readers available on the market have a 13.3-inch display with a 4:3 aspect ratio. These screens are slightly smaller than a sheet of paper. To be more precise, the area of 13.3-inch displays is 90.8% of the area of a Letter-size paper.
Sheet of paper, compared to 13.3-inch and 10.3-inch e-reader screens. The surfaces and dimensions are those of the screens and not those of the tablets.
The screen size of smaller e-book readers goes straight to 10.3 inches – there are no standard screen sizes between 10.3 and 13.3 inches. The 10.3-inch screens cover 54.5% of the area of a Letter-sized sheet of music. They are definitely too small to display complex scores, but might be enough for song lyrics with chords.
For the vast majority of musicians, an e-reader with a 13.3-inch screen is therefore recommended.
List of the best e-readers for musicians
To be used for reading sheet music, an e-reader should have the following features:
a stylus, to annotate sheet music
Bluetooth, to connect a page turner
E-readers that do not meet these criteria are not included in the list. Amazon's Kindle devices are thus not mentioned here.
1. The best e-reader for musicians: The Onyx Boox Tab X
The Onyx Boox Tab X offers a large 13.3-inch e-ink display, runs Android 11 and comes with a stylus, the "Pen2 Pro".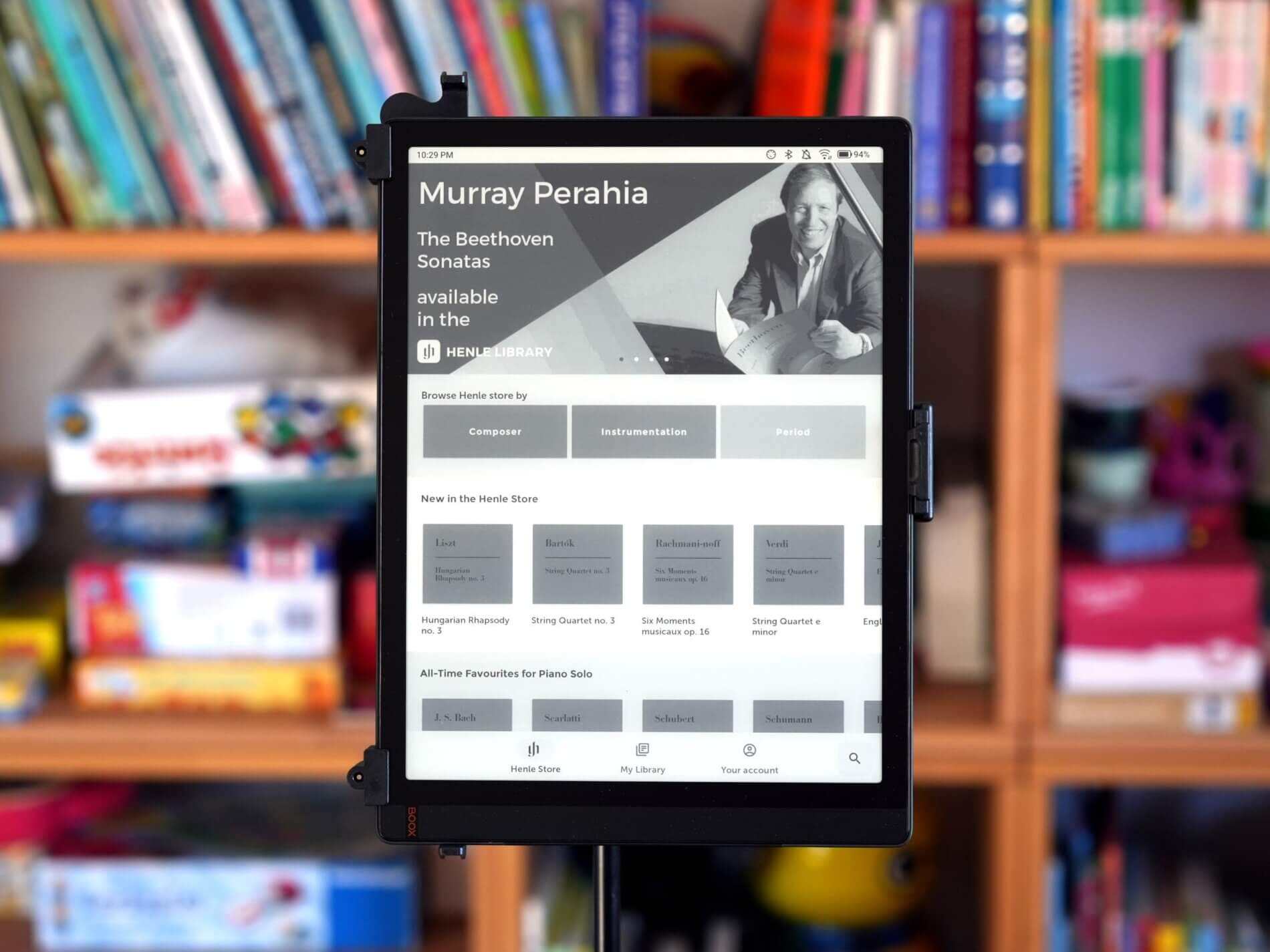 Homepage of the "Henle Library" app on an Onyx Boox Tab X e-reader. Photo: tablets-for-musicians.com
Thanks to Android, the full range of applications from the Play Store is available. You can download sheet music apps and access digital score libraries, which is not always possible with non-Android readers such as Kindles, Kobos or the reMarkable 2.
Examples include MuseScore, Henle Library, Tomplay, SongBookPro or the IMSLP app. My favorite sheet music reading app, MobileSheets, is available in a version designed specially for e-ink devices.
Since Bluetooth is supported, it is possible (and very easy) to connect a pedal to turn the pages.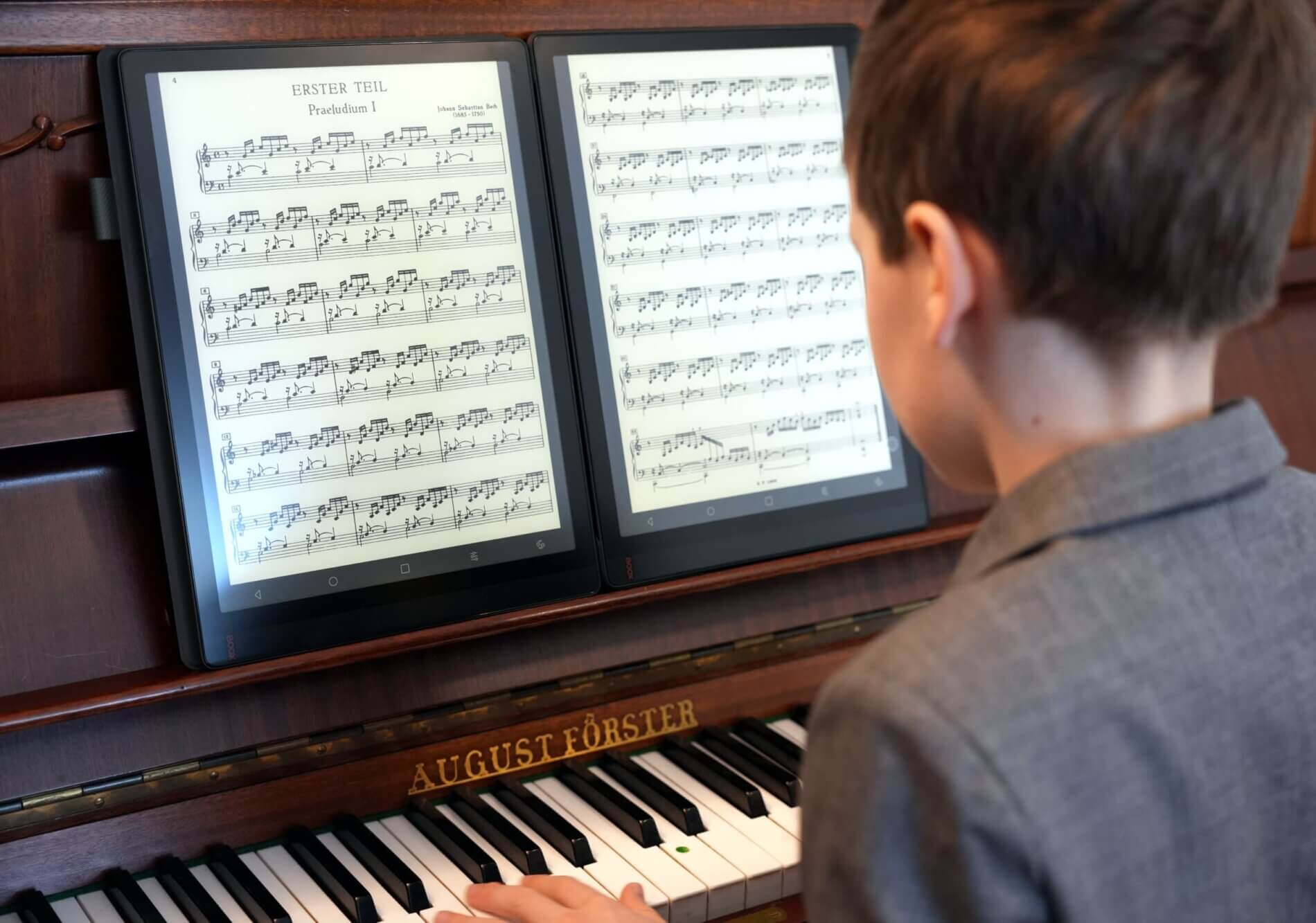 With two e-readers, piano practice gets a boost of motivation! Photo: tablets-for-musicians.com
Large 13.3-inch screen
Very thin (0.27 in) and light (1.23 lb)
Large choice of apps
Best large e-reader on the market
Display lag (like all bigger e-readers) and poor reactivity
No cellular option (Wi-Fi only)
No camera (e.g., to scan sheet music)
Very expensive
Onyx Boox Tab X : Verdict
I have been using the Boox Tab X for several months for practice, in chamber music rehearsals and concerts. It is my device of choice for outdoor performances.
For typical use in music, I would recommend a 12.9″ iPad Pro or an Android tablet like the Samsung Galaxy Tab Ultra. These tablets have cameras (for scanning sheet music), cellular options, and very responsive displays.
However, if you are bothered by glossy tablet displays, have a lot of outdoors gigs, or are looking for a more paper-like screen, the Boox Tab X is for you.
2. The PadMu 4: An excellent e-reader with an imperfect software suite
Take the best large-format e-reader on the market, the aforementioned Onyx Boox Tab X. Add a tailor-made software suite for reading sheet music.
Sprinkle generously with marketing aimed at musicians and ship worldwide via a pretty website: you get the PadMu 4.
This is the method used since 2016 by a small Italian company that has already convinced many musicians.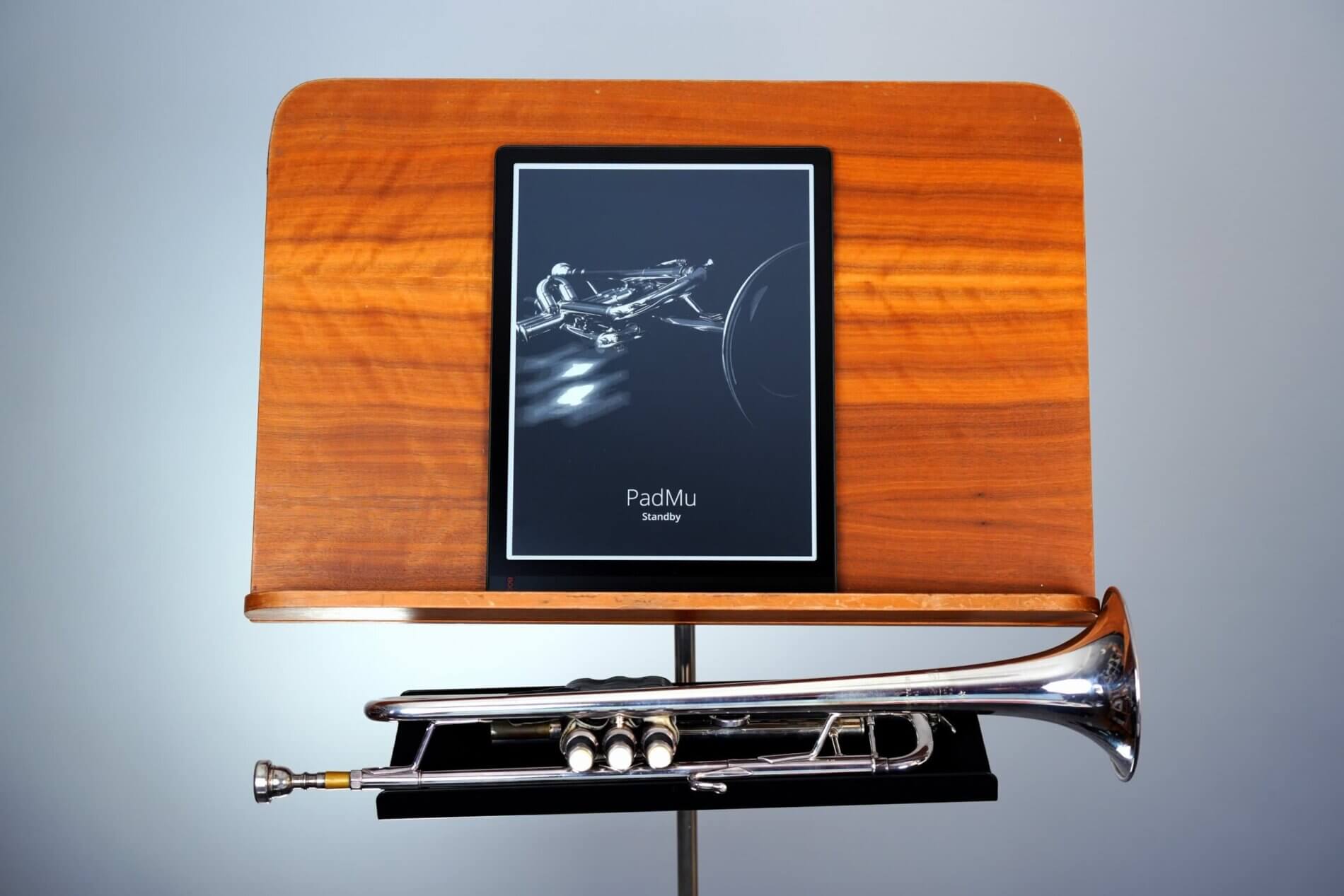 Although the PadMu 4's software has major shortcomings, it is still an excellent e-reader. Photo: tablets-for-musicians.com
Unfortunately, the software suite that should make the PadMu 4 unique suffers from some major flaws. So much so that I can only advise you to install other applications to read and manage your sheet music.
However, when you use the PadMu with other apps, it's just an Onyx Boox Tab X with a more musician-focused marketing strategy – and a lot more expensive. Nevertheless, it remains an excellent e-reader.
All-in-one solution specifically designed for musicians
Well-thought-out and pleasant to use library
Based on the best e-reader on the market
Account required to use the PadMu applications
Half-baked "PadMu Reader" sheet music reading app
Poor page cropping function
Can't display two pages side by side in landscape mode
Sluggish PadMu software suite
E-readers and music: frequently asked questions
No, e-book-readers with 13.3″ screens are the largest available on the market.
There are, however, two larger tablets:
The Samsung Tab S8 Ultra with a 14.6″ display.
The Lenovo Tab Extreme with a 14.5″ display (expected release in the second half of 2023).
Both are Android tablets with a 16:10 aspect ratio.
No, there is no e-reader from Apple, and no model is planned.
Music Education and E-readers
For those old-school music teachers who only want to take notes and read sheet music (or books), an e-reader can be the perfect tool. For note-taking, the Play Store allows you to install One Note, Evernote or Google Keep, to name a few.
Keep in mind that e-ink screens are not made for dynamic, colorful or interactive applications, such as TuneKey, Complete Rhythm Trainer or Music Speed Changer.
E-readers have the "advantage" over tablets of being fairly unusable with applications such as YouTube, TikTok, or Instagram. Focusing on the voice or the instrument is probably easier when practicing with an e-reader than with a tablet.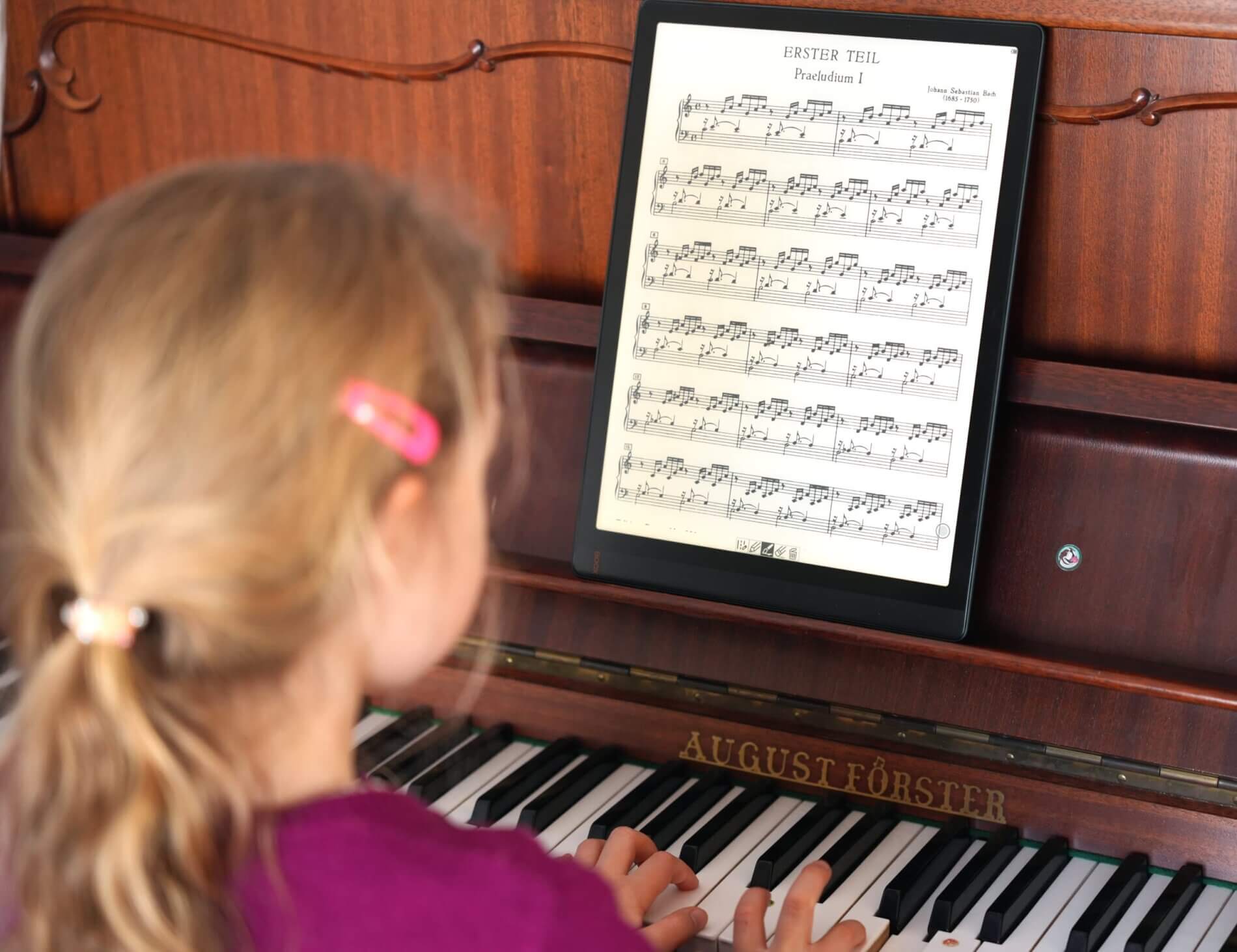 A piano lessons with an e-reader (completely simulated, my daughter having been kind enough to pose for the picture) Photo: tablets-for-musicians.com
An e-reader can be a great tool for music students to stay focused to study effectively. The appeal of YouTube, Instagram, or games is greatly diminished compared to a tablet. Other advantages include lightness (three to six times lighter than a laptop) and the convenience of taking notes on electronic paper.
Musicians should avoid these E-readers
The reMarkable 2: not a good option for musicians
The reMarkable 2 is a beautiful e-reader with a two-week battery life. Presented as "the thinnest tablet in the world" (0.19 in), it is also very light (0.89 lb).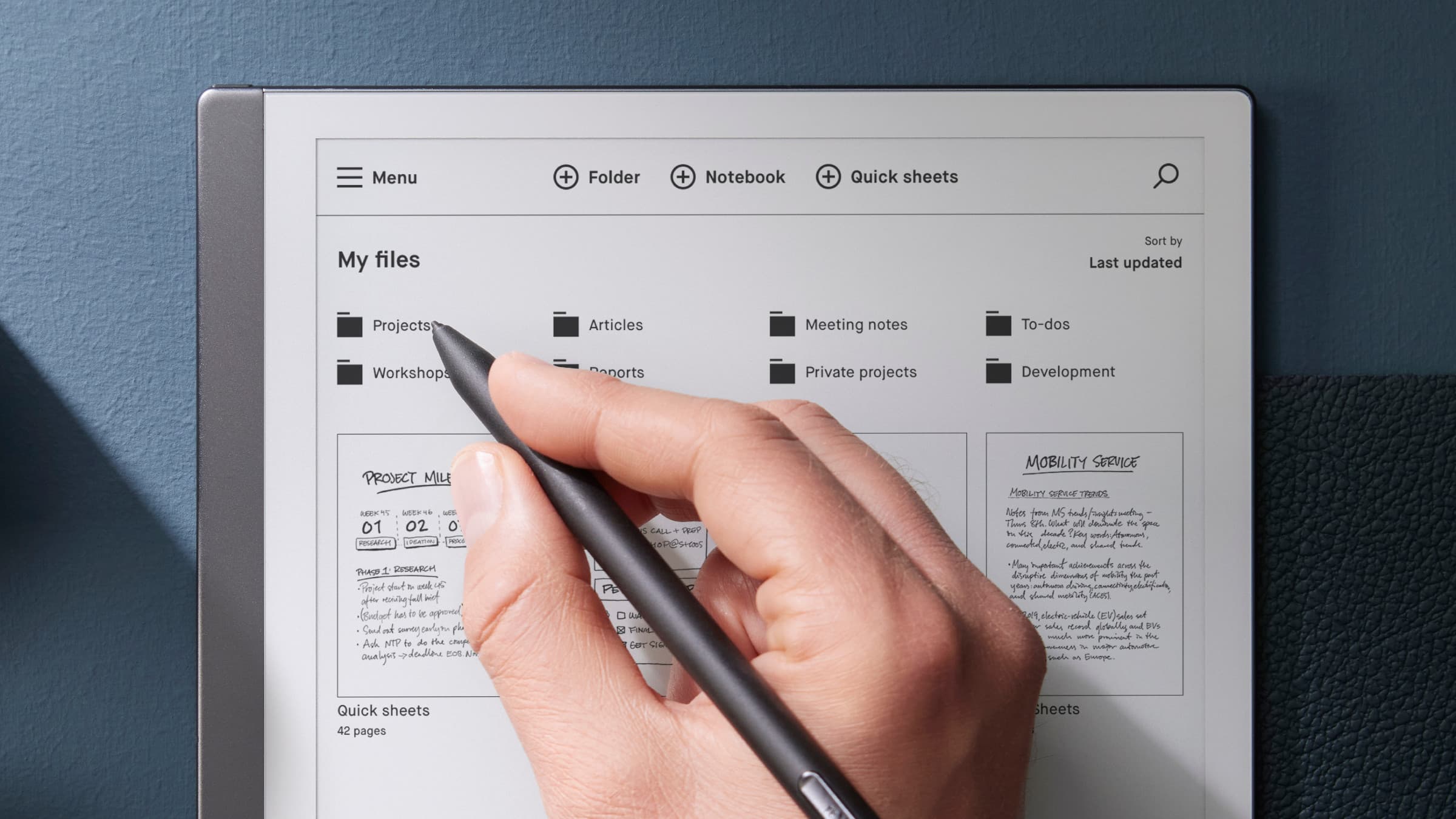 The reMarkable 2 is a fantastic tablet, but not for musicians
Unfortunately, the reMarkable 2 does not run on iOS or Android. It is limited in terms of apps: forScore, MuseScore or MobileSheets are not available, nor any other music production or notation software.
Another dealbreaker is the lack of Bluetooth support, a real problem for connecting a foot pedal / page turner. This makes the ReMarkable 2 useless for almost all performing musicians.
Is the the Lenovo Yoga Paper e-note a good tablet for musicians?
Unlike the reMarkable 2, the Yoga Paper e-note has Bluetooth 5.2 support and runs on Android 11. It has a 10.3-inch E INK Carta HD e-paper screen with a resolution of 2000 x 1200 pixel (212 PPI).
The Lenovo Yoga Paper e-note is too small for reading sheet music.
The Yoga Paper e-note is potentially a usable tablet for musicians, but its small screen may be too small to comfortably view and interact with sheet music, especially for longer rehearsals or practice days.
Overall, the Lenovo Yoga Paper may be a good option for musicians with good eyes and fans of E Ink technology, but it may not be the best choice for those who need a larger screen for reading sheet music.