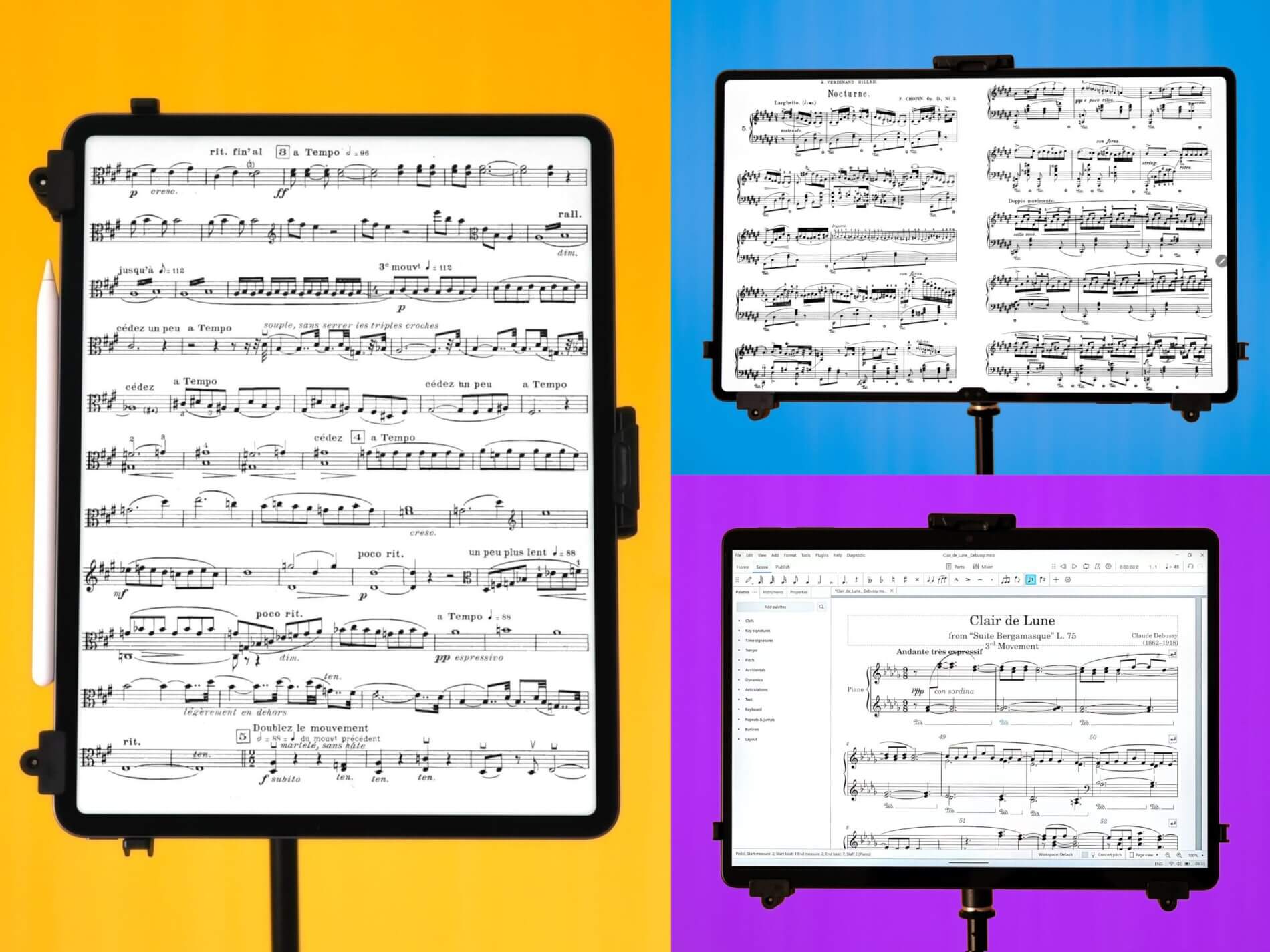 Sheet music on an iPad (left), a Samsung tablet (top) and a Microsoft 2-in-1 (bottom). Photo: tablets-for-musicians.com
The best tablets for musicians in 2023
Last updated on November 18, 2023
As a musician, choosing a tablet is not an easy task. It is an important decision and the tablet will hopefully last for many years. The Apple iPads are dominant among professional musicians, but there are a lot of other options out there, so it can be overwhelming to find the right one.
In 2023, new tablet options are available to amateur and professional musicians. The 12.9-inch iPad Pro and Samsung's Tab Ultra now face competition, and picking a tablet for reading sheet music, recording and performing is more complex than ever.
I am registered with the Amazon Associates Program. This website contains Amazon affiliate links (marked with a star). If you click on one of these links and make a purchase, I may receive a commission from Amazon.
Clicking on an affiliate link does not change the price you pay, and will help me continue to test tablets and e-readers. Thank you for your trust and support!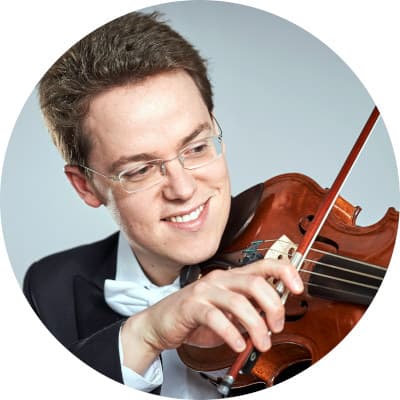 I am a classical musician (violist) with 20 years of professional experience in orchestra and chamber music. For many years, I have been advising colleagues, students, and fellow musicians in the choice of their tablet.
Along with the many positives of using tablets, I've also seen the negatives: tablets crashing just before going on stage, batteries that don't hold up during long rehearsal days, and missing page turner pedals in concert.
I spent my school years in France, and this article must be riddled with spelling and grammar mistakes, for which I apologize. Feel free to send me any corrections!
There is no test protocol! I use the most different tablets possible in my real life as a musician, which includes practicing, rehearsing and playing concerts.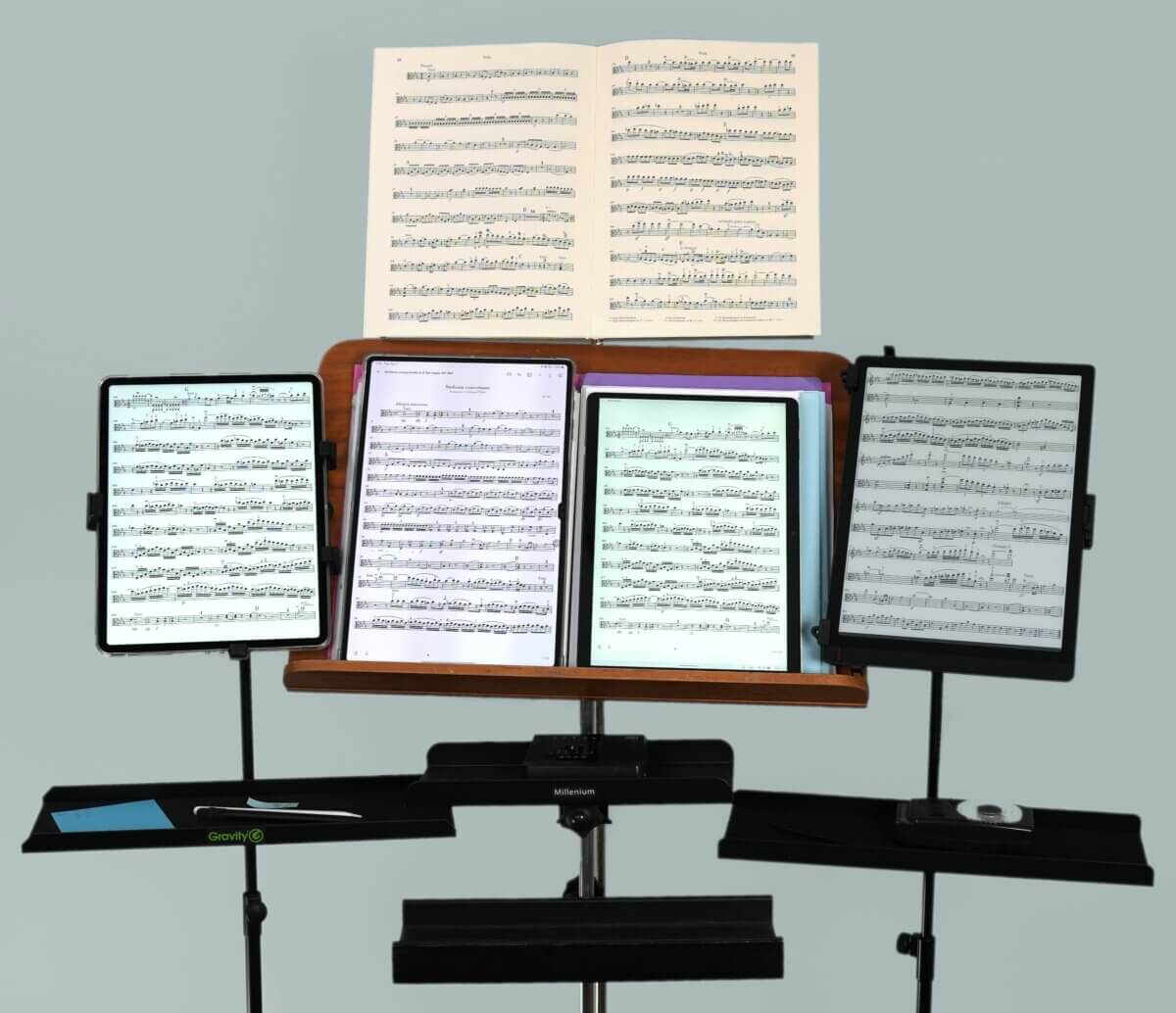 Practicing with multiple tablets at the same time can be laborious. Photo: tablets-for-musicians.com
The tablets and e-readers are purchased with my own funds and used as long as I please. This means that my tablet reviews are always independent, long term and real life reviews.
1. Apple iPad Pro 12.9 and 11-inch
The 12.9-inch iPad Pro is undoubtedly the tablet most used by professional musicians. Paired with forScore, it is the absolute reference for reading sheet music.
For a majority of professional and amateur musicians, the iPad Pro is simply the best choice – if your budget is up to it.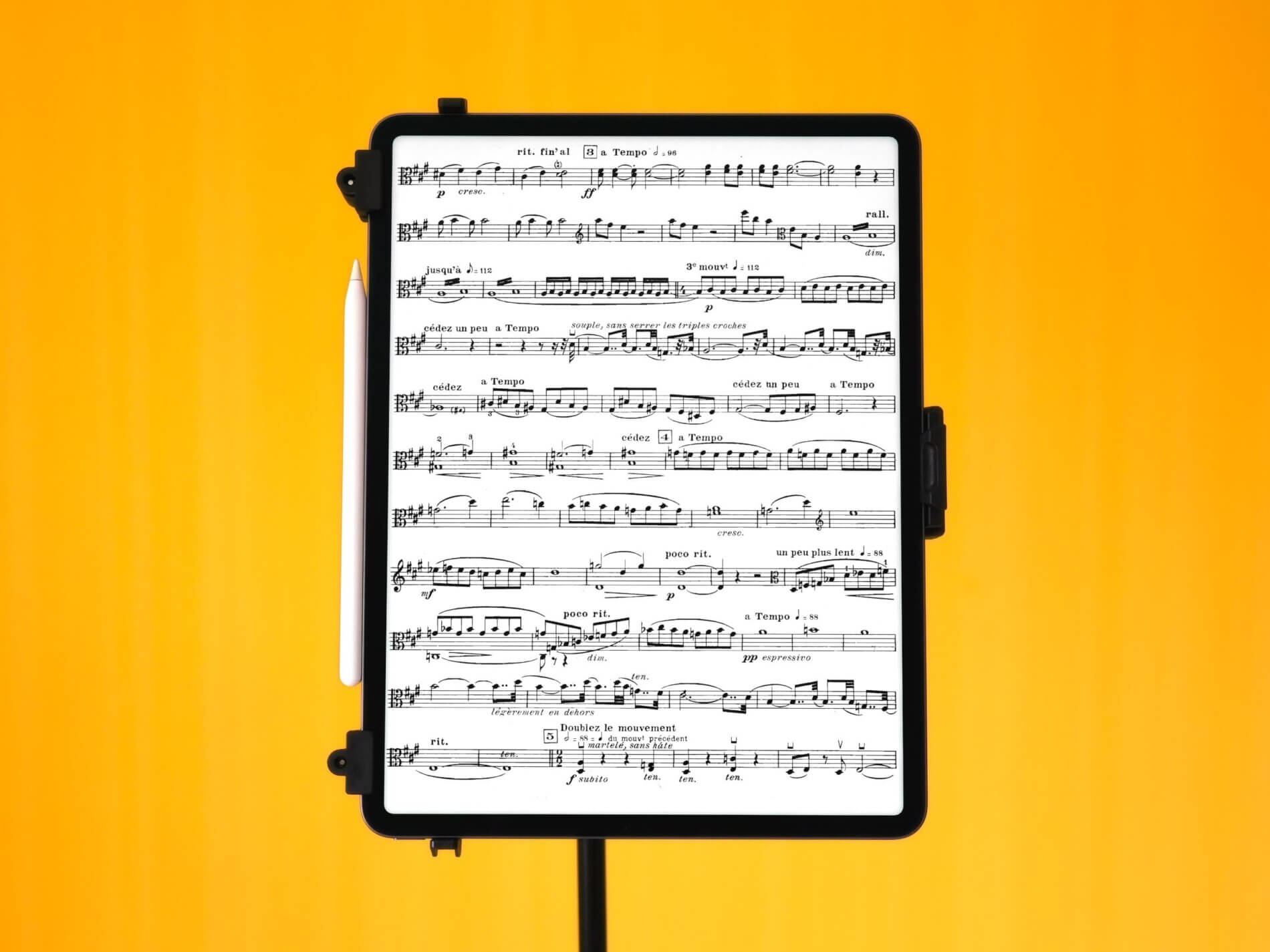 Sheet music on the 12.9-inch iPad Pro. Photo: tablets-for-musicians.com
Which iPad model is best for musicians?
The 12.9-inch iPad Pro is definitely Apple's best tablet for reading music. Its display is slightly smaller than a sheet of paper. To be precise, the area of the 12.9-inch iPad Pro's display is 85.5% of Letter paper size, and its aspect ratio is also very similar:
iPad Pro 12.9-inch: 1.33 (4:3) aspect ratio
Letter paper size: 1.29 (22:17) aspect ratio
Sheet of paper, compared to the 12.9-inch and 11-inch iPad Pro displays. The surfaces and dimensions are those of the screens and not those of the tablets.
The screen size of the iPad Pro 12.9 is therefore sufficient to display demanding scores. If you crop the margins of PDFs (for example with forScore), you will get close to the original size of printed music. The 12.9-inch iPad Pro is sleek and looks good on stage. It fits on a "normal" sheet music stand or on a dedicated tablet stand.
iPad Pro 11‑inch, iPad Air and "standard" iPad
The iPad Pro 11, on the other hand, is too small to read music parts or scores without straining your eyes. Its display represents only 60.8% of the area of a Letter page.
The 11-inch version is therefore more suitable for displaying tablatures, chords, or lyrics (e.g., with SongSheet Pro or Ultimate Guitar). It blends in very well on stage, especially on a tablet stand.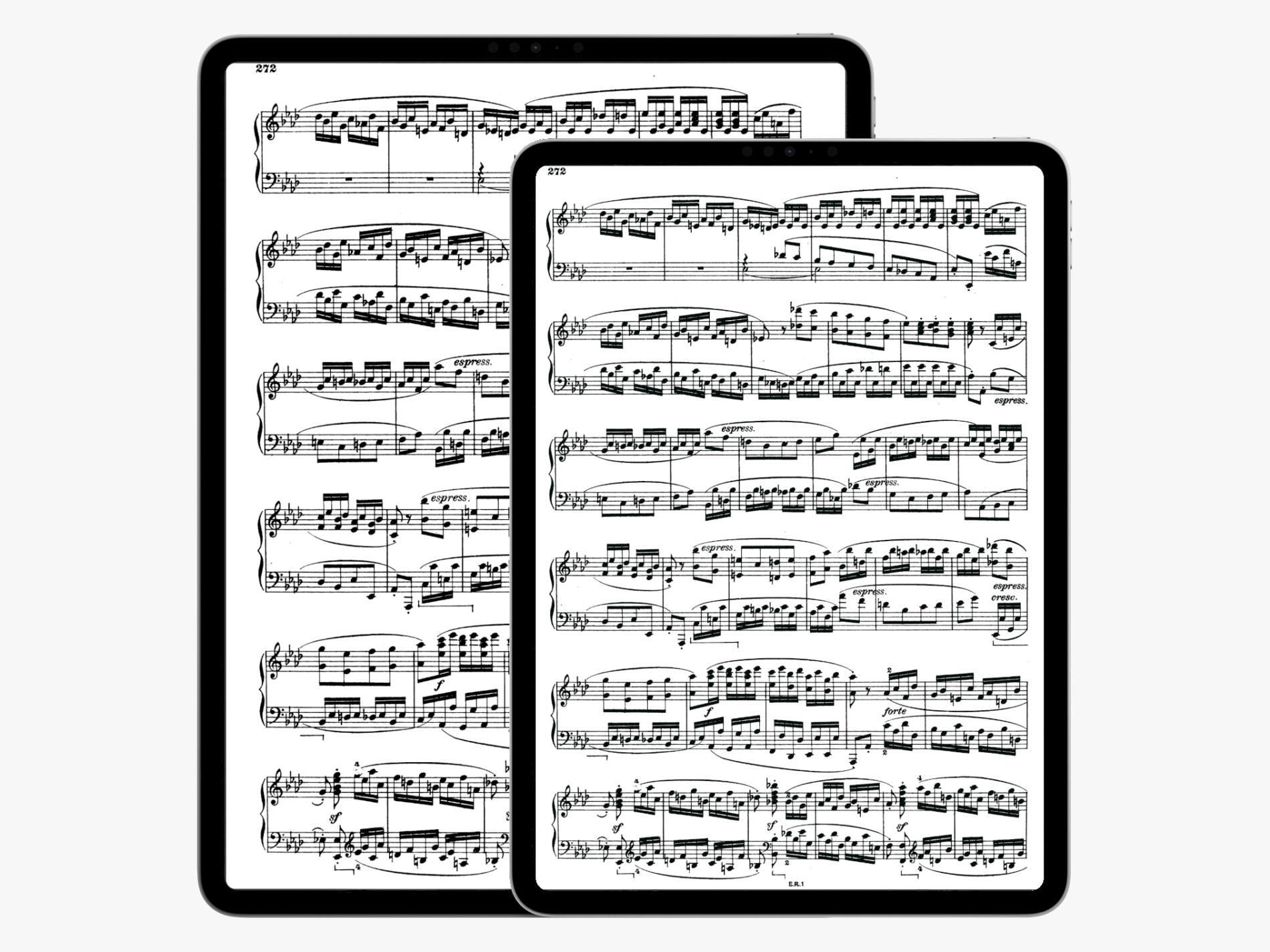 The display of the 11-inch iPad Pro represents only 71% of the area of its 12.9-inch big brother. Here they are compared in Beethoven's Piano Sonata № 12 in A-flat major (Opus 27).
The same applies to the iPad Air and the 10th generation iPad (2022). These two tablets have the same display size: a 10.9-inch panel that is only slightly smaller than the one on the 11-inch iPad Pro. The display is too small to avoid squinting your eyes during long rehearsals or performances.
Sheet music on the iPad: what are the cons?
Besides a very high price, the iPad Pro has a number of disadvantages that can lead to the choice of another tablet or e-reader:
The 4:3 aspect ratio of the 12.9-inch iPad Pro is not ideal for most sheet music: the tablet is not tall enough, and the toolbars tend to overlap the music. When used in landscape mode, a particularly large amount of space is lost, as can be seen in the screenshot below. Musicians who often play in landscape mode should take a look at Samsung's flagship tablet with a 16:10 aspect ratio, where hardly any screen space is lost in this use case.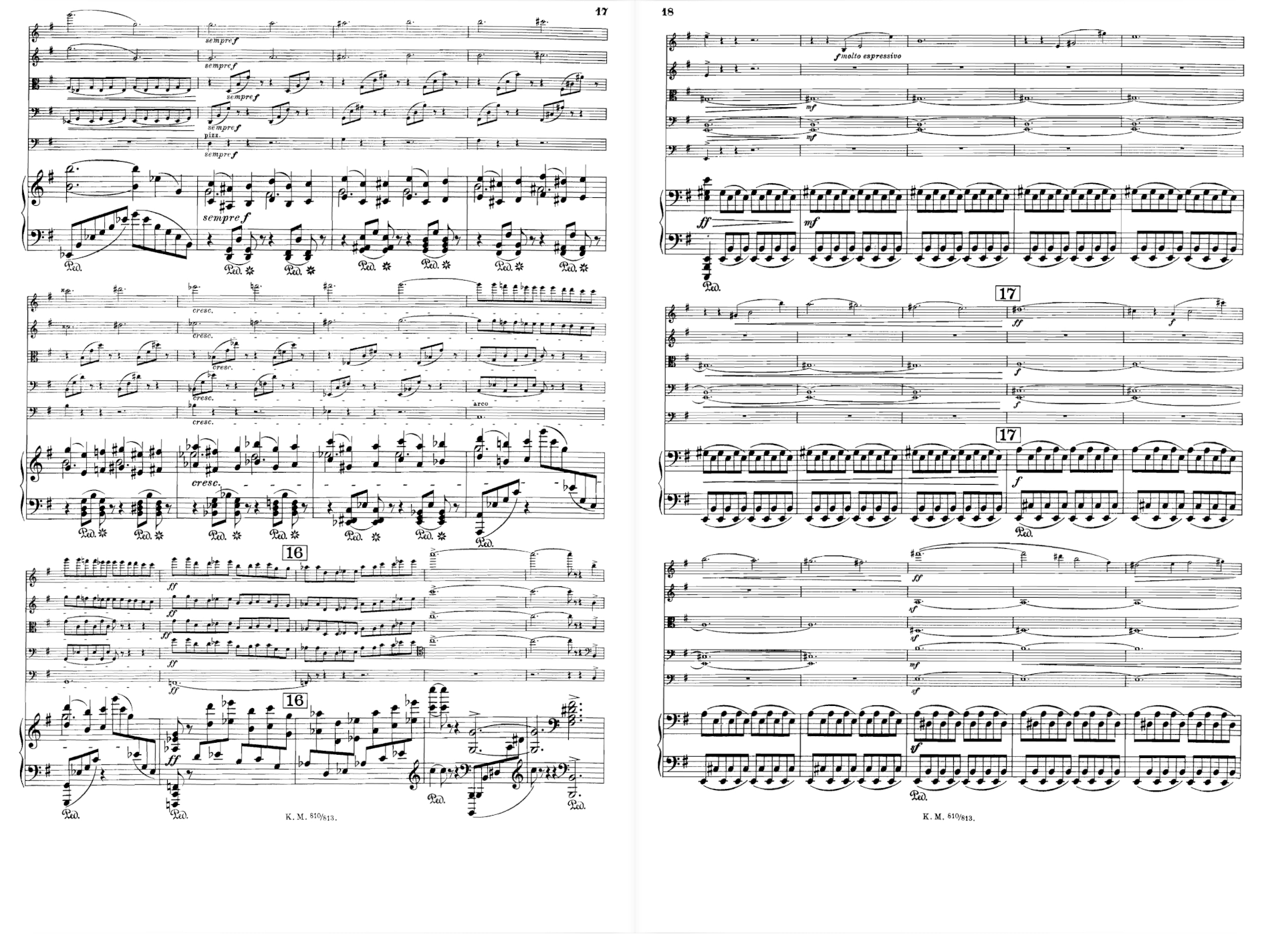 Piano sheet music on iPad: Due to the 4:3 aspect ratio of the display, screen space is lost when used in landscape mode (bottom of the image).
Transferring data (sheet music in PDF format) from a PC or Android phone can be tricky, and you won't find an SD or microSD card slot.
The lock-in effect is stronger than on other platforms (for example, forScore is only available on Apple devices).
Professional musicians and music students: In which cases is there no alternative to Apple?
It is difficult to do without Apple iPads in the following cases:
You want or need to use forScore. ForScore is often considered as the ultimate sheet music reading app and is only available for iPad and iPhone.
Your friends/colleagues use AirDrop to transfer music files (for example, PDF sheet music). AirDrop only works with Apple devices.
You need some music apps that are only available on the Apple Store, like Newzik, GarageBand or KORG Gadget 2.
You need a powerful tablet to edit videos with, for example, DaVinci Resolve (not available on Android tablets).
However, if you mainly practice with the tablet and want to use it for gigs (and your budget is tight), there are good alternatives to Apple's iPads.
The iPad Pro is the de facto standard for music
AirDrop, forScore, Newzik, GarageBand, …
Unmatched performance
Holds value over time, long-term support
Excellent accessories (Apple Pencil, Magic Keyboard)
Glossy display
4:3 aspect ratio, not ideal for sheet music
No SD or microSD card slot
Slow charging (only 20W)
Extremely expensive
iPads for musicians: Verdict
You can't go wrong with the 12.9-inch iPad Pro! It is the most used tablet among professional musicians and has the best stylus and keyboard. iPadOS still has some exclusive apps (forScore, Sibelius, GarageBand) and features (AirDrop, AirPlay), as well as the best performance of any tablet to the day.
The iPad Pro 12.9-inch has some drawbacks though, the biggest being its aspect ratio, which is ideal for office use, but not for displaying sheet music. Also, don't expect a fast battery charge during rehearsal breaks, as the iPad Pro has the slowest charging speed of all the tablets in its category.
The 11-inch iPad Pro, the iPad Air and the "standard" iPad are definitely too small for more than casual music practice. I would strongly recommend preferring a used or refurbished 12.9-inch iPad than opting for one of the smaller models.
If you already have an iPhone or a Mac, it's a no-brainer: the 12.9-inch iPad Pro is your best option. If you're not tied to the Apple ecosystem, however, a Samsung Galaxy Tab S9 Ultra may also be an excellent choice.
2. Samsung Galaxy Tab S9 Ultra
The Galaxy Tab S9 Ultra is a high-end Android tablet with a 14.6-inch display. It is the largest tablet available on the market in 2023.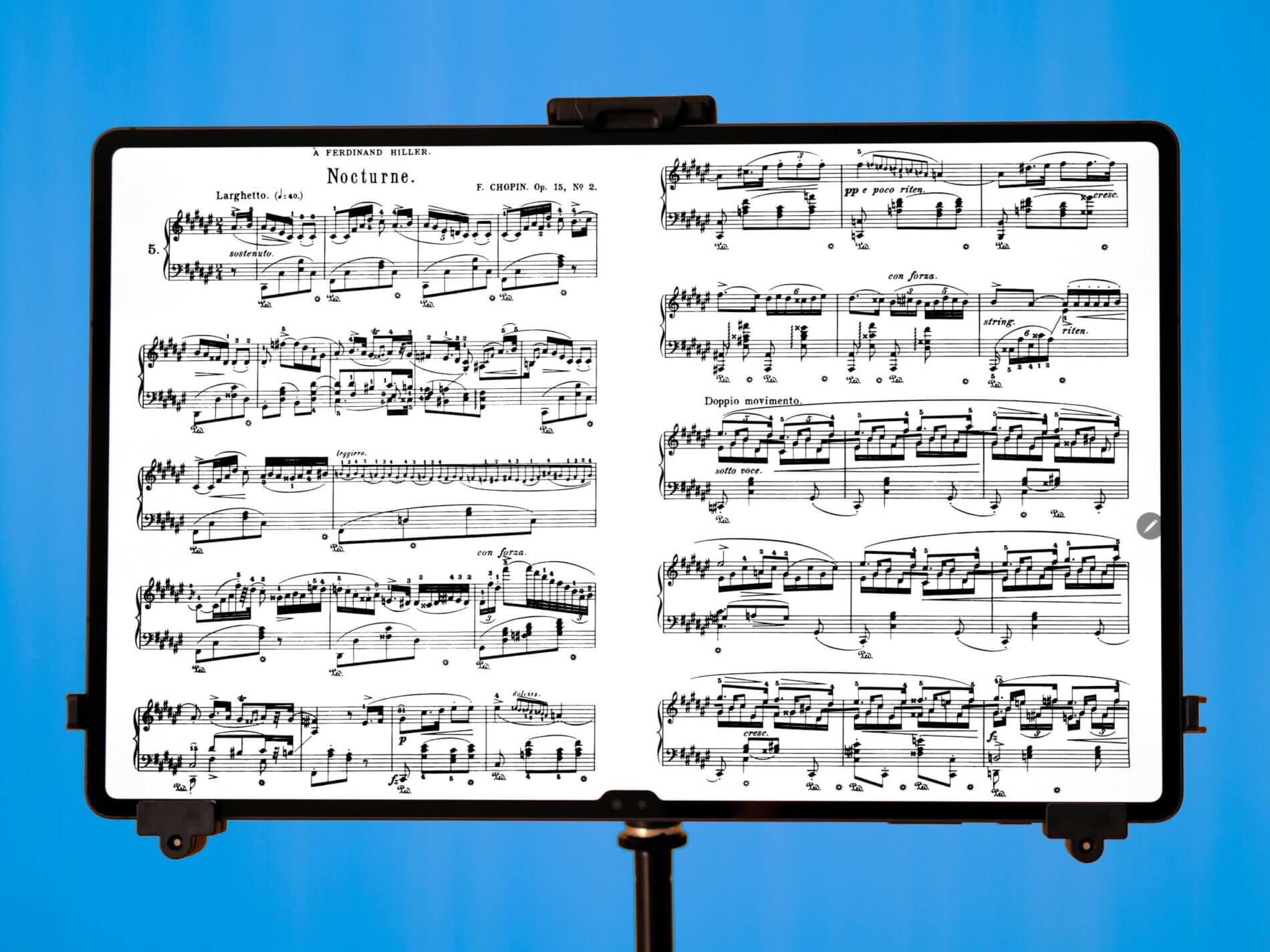 Frédéric Chopin's Nocturne Opus 15 № 2 on a Samsung Galaxy Tab S9 Ultra in landscape mode. Photo: tablets-for-musicians.com.
At 1.61 pounds (or 732 grams), the weight of the S9 Ultra is relatively low compared to the huge screen size. The display area corresponds to 102% of the area of a Letter-size paper or 99% of the area of an A4 sheet of paper.
Thus, this tablet is the closest thing to printed music in terms of display size. Nevertheless, it remains significantly smaller than the commonly used orchestral sheet music and scores.
The largest tablet on the market, the Samsung Galaxy Tab S9 Ultra, has a display area equivalent to 102% of a sheet of paper. The surfaces and dimensions are those of the screens and not of the tablets.
The display of the Samsung tablet is very elongated, the aspect ratio is 16:10, which might seem impractical at first glance. However, this unusual format is actually very well-suited for displaying sheet music:
The toolbars (shown here with MobileSheets) do not cover the score (as is the case with forScore on the iPad):
Working with a split screen works great, for example with YouTube, a score or a tuner in the lower part:
In landscape mode, the 16:10 aspect ratio is (almost) perfect for displaying two sheets of music side by side: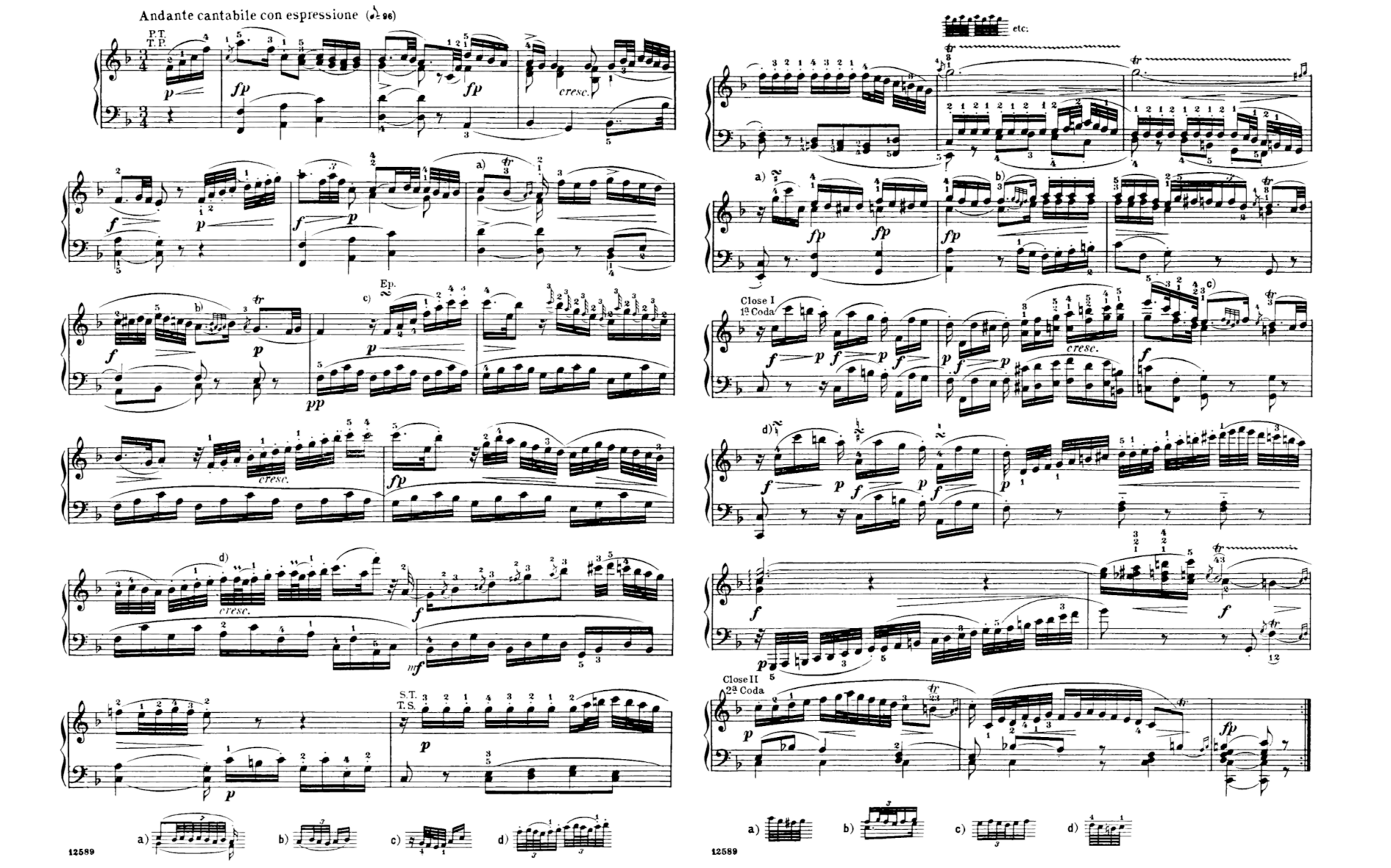 The beginning of the second movement of Mozart's Piano Sonata № 8 in A minor, K. 310 / 300d on the Samsung Galaxy Tab S8 Ultra
Samsung Galaxy Tab S9 Ultra: Pros
Largest display on the market, versatile aspect ratio
Excellent battery life
MicroSD card slot
5 years of security updates
Superfast charging (up to 45W)
Glossy display (prone to reflections)
Some apps (like forScore) are not available for Android
Stylus ("S-Pen") less pleasant to use than the Apple Pencil
Very expensive
Music on the Samsung Galaxy Tab S9 Ultra: Verdict
The Galaxy Tab S9 Ultra is arguably the best Android tablet for music. It has the largest display available on the tablet market. This gigantic screen combined with the unique aspect ratio makes it an outstanding tablet for reading sheet music.
In real life, its battery life has proven to be better than the 12.9-inch iPad Pro. Thanks to the ultra-fast charging, it is also possible to recharge the battery between rehearsals or even during a rehearsal break (plus 20% every 10 minutes).
Among the downsides is the stylus, which didn't quite convince me (but is included with the tablet). And of course the very high price, which however remains well below Apple.
I spent more than 16 months working with the Galaxy Tab S8 Ultra and 4 weeks with the S9 Ultra (alternating with other tablets and e-readers). I can therefore recommend them to almost all musicians, on an equal footing with the 12.9-inch iPad Pro.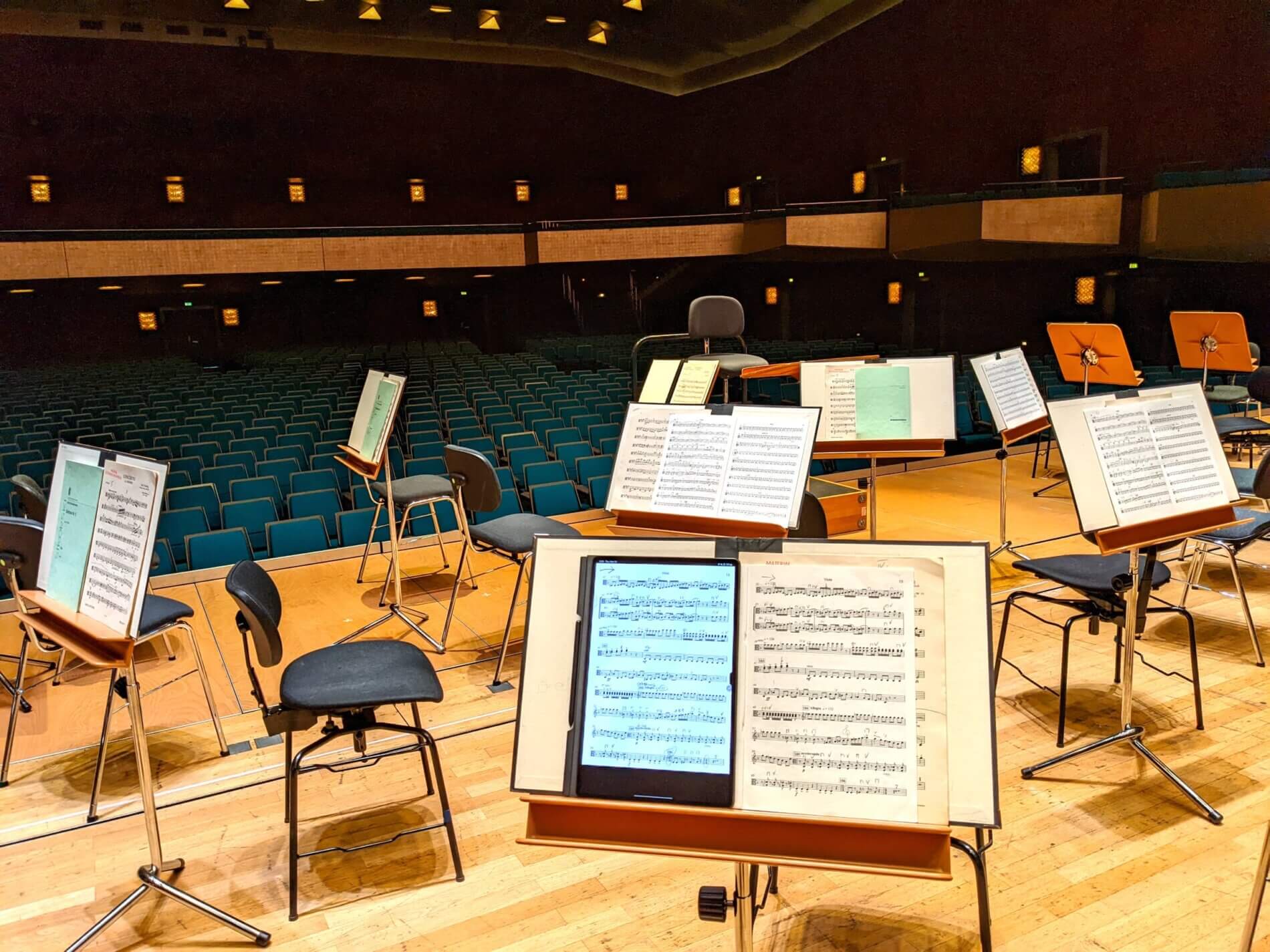 Symphony orchestra rehearsal with the Samsung Galaxy S8 Ultra. Photo: tablets-for-musicians.com
Is the previous-generation Samsung Galaxy Tab S8 Ultra still a good choice in 2023?
Absolutely! The Tab S8 Ultra is very similar to the S9 Ultra, the differences are minimal. For reading sheet music (MobileSheets, MuseScore) or for almost any music app (Simply Piano, Yousician, BandLab…), the S8 Ultra is still a terrific tablet. Nevertheless, there is one important point to keep in mind: Samsung's security updates policy.
Samsung offers five years of security updates for both the S8 and S9 tablet series, as well as "up to four generations of One UI and Android OS upgrades". No other Android tablet manufacturer offers this length of support.
What's essential here is that this rule applies from the product's global launch date – not from the date of purchase. With this information, it is easy to determine how long the S8 and S9 tablet series will be supported.
How long will the Samsung Galaxy Tab S8 and S9 series receive software updates?
The Galaxy Tab S8+ and S8 Ultra were released in April 2022 and came with Android 12 and Samsung's own One UI 4.1 user interface. They will receive security updates at least until March 2027, and be upgraded to Android 16 and One UI 8.
The Galaxy Tab S9+ and S9 Ultra launched in August 2023, running Android 13 and One UI 5.1. They will receive security updates almost a year and a half longer than the previous generation, at least until July 2028, and will be updated to Android 17 and One UI 9.
Apart from the significantly shorter software support, nothing speaks against getting a Galaxy Tab S8 Ultra for music in 2023. If you find a good deal, go for it!
3. Microsoft Surface Pro 9
The Microsoft Surface Pro 9 is the company's latest 2-in-1 detachable tablet computer, announced on October 12, 2022. It can be used as a standalone tablet. The Surface Pro 9 is the successor to the Surface Pro 8 and Surface Pro X, merging both brands.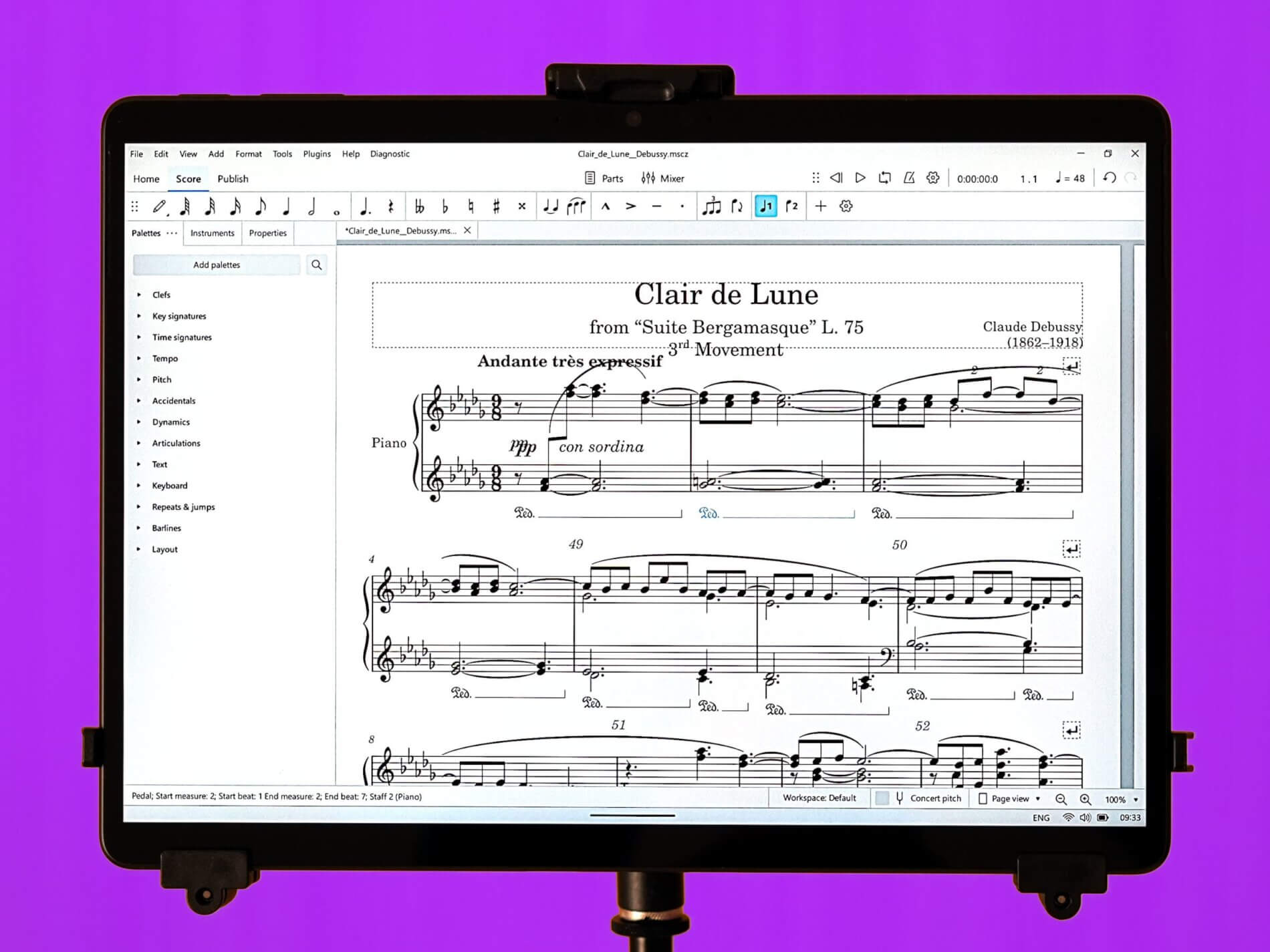 Editing sheet music with MuseScore on the Microsoft Surface Pro 9. Photo: tablets-for-musicians.com
Is the Surface Pro a good tablet for musicians?
Absolutely! The Surface Pro series features a large 13-inch display with a 3:2 aspect ratio, making it a great choice for displaying and annotating sheet music.
My favorite sheet music reader app, MobileSheets, is available as a Windows app for the Surface Pro series.
While the Surface Pro 9's screen area is slightly smaller than that of the 12.9-inch iPad Pro, its 3:2 aspect ratio is more suited to reading sheet music.
The superpower of a Windows tablet: software diversity
The Surface Pro 9 does not run Android, but Windows 11. A powerful mini-PC is hidden beneath its tablet look. Unlike iPads or Android tablets, the Surface Pro 9 is therefore not limited to mobile apps.
In addition to apps like MobileSheets (for reading sheet music) and various metronomes and tuners, the Surface Pro 9 is capable of running real Windows software in its full version.
The professional music notation programs Sibelius, Finale and Dorico run in their full Windows version. For comparison: these are entirely absent from the Android platform, while iPad users will only find a simplified version of Sibelius and Dorico.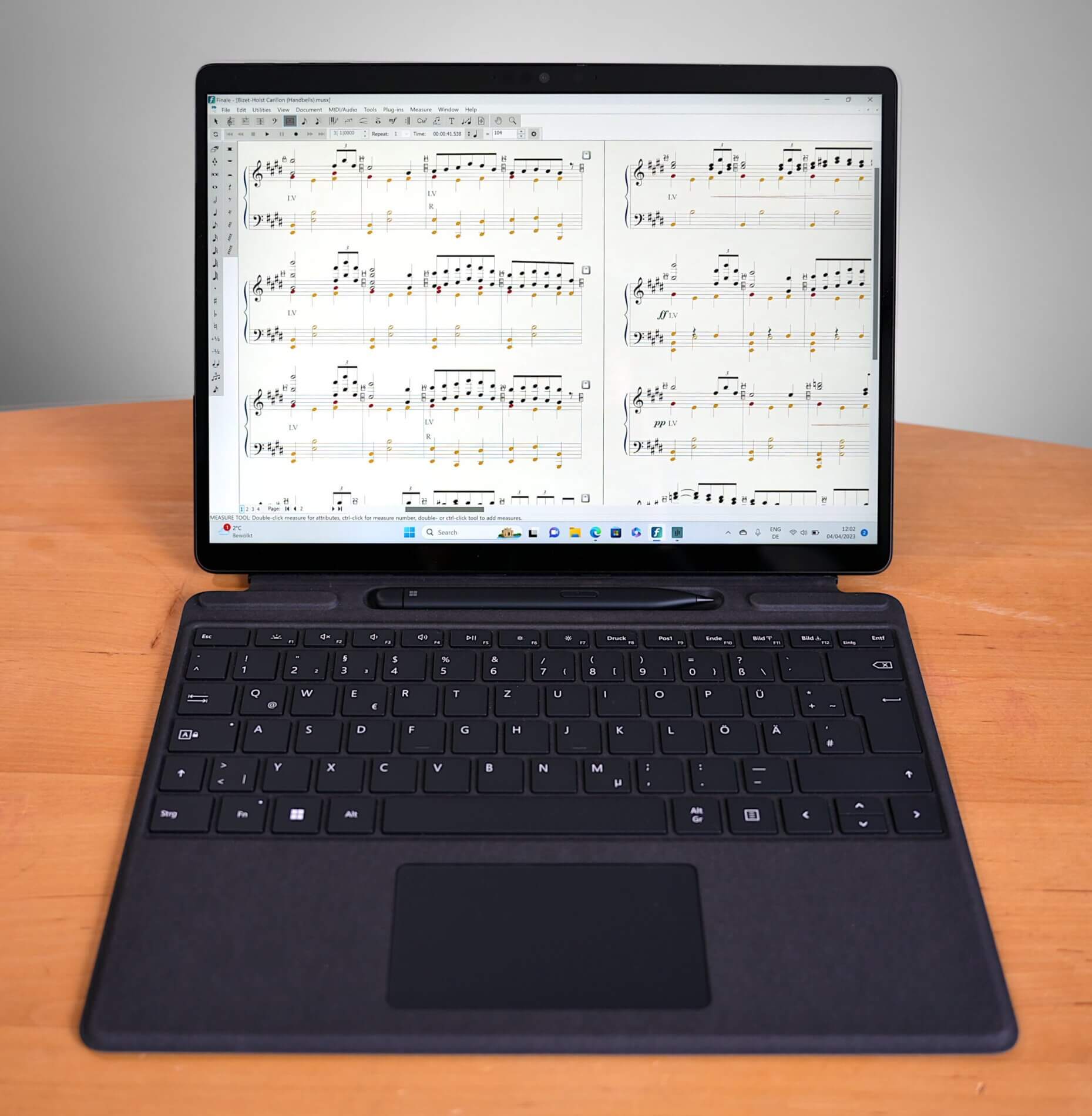 Windows tablets are the only ones that can run the Finale music notation software (here on the Surface Pro 9). Photo: tablets-for-musicians.com
Musescore is also available in its full version. This version allows full playing and editing of parts and scores, while the mobile apps (for iPadOS and Android) only allow music reading and transposing, not editing.
Digital Audio Workstations (DAWs)
Cubase or Ableton Live can be used in their full version on the "Surface Pro" series. These programs are not available for either Android or iPadOS.
However, according to Notebookcheck, the latency of the Surface Pro 9 is relatively high (1942 μs), which is not ideal for recording. However, it is possible to reduce latency and optimize Windows for audio recording.
Like Apple, Microsoft does not include the stylus (dubbed "Surface Slim Pen 2") with its high-end tablet. As it is essential for writing your fingerings, bowings and dynamics, you will need to purchase it separately. It is much more enjoyable to use than the Samsung S-Pen, but I slightly prefer the Apple Pencil.
The "Signature Keyboard" is also not included. It's excellent (fortunately, considering its price), but its "plush" finish tends to attract dust.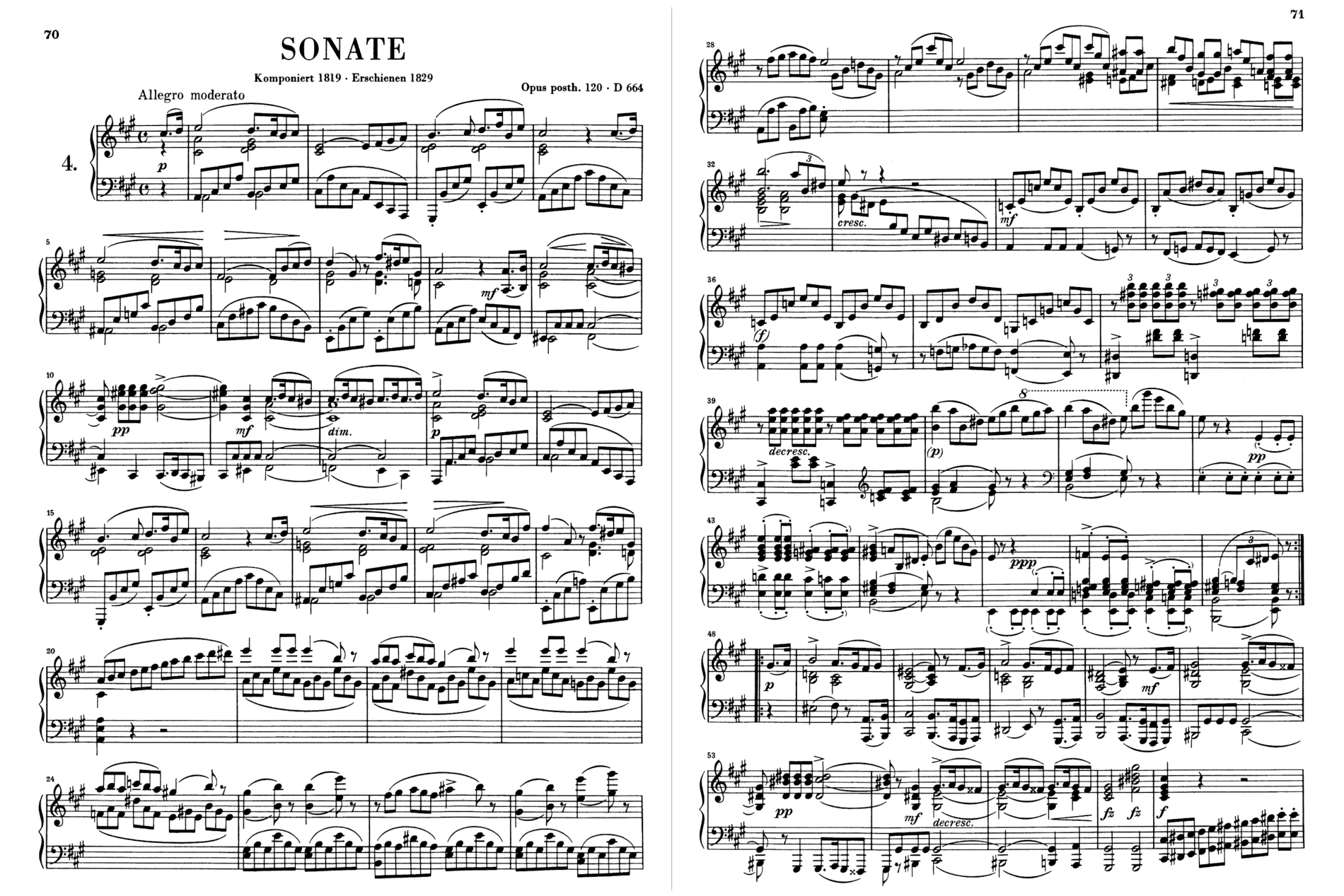 Screenshot of Schubert's Piano Sonata in A major (D. 664) on the Surface Pro 9 in landscape mode.
Excellent Display
3:2 aspect ratio, ideal for sheet music
Full-fledged Windows 11 PC
Supports full software versions (Sibelius, Finale)
Glossy, highly reflective display
Slow waking up from sleep mode
Limited choice of mobile applications
Active cooling, occasionally audible fan
Less convenient than Android or iPadOS tablets
Surface Pro 9 verdict: an excellent 2-in-1
If you're looking for a single device to serve as both a laptop and a tablet, the Surface Pro 9 is for you! As a laptop, it will make most users happy. As a tablet, it is certainly a little heavy, but well proportioned and very pleasant to use.
On the other hand, if you already have a laptop and are only looking for a device to practice, rehearse and perform, the Surface Pro 9 is probably not the best choice. It's less convenient than an Android tablet or an iPad, and the range of mobile apps is more limited.
After many years of absolute dominance, Apple's iPads are no longer the only recommendable tablets for musicians. In 2023, the tablets of the competition are excellent, and in some application areas the top tablets from Samsung and Microsoft even outperform the iPad Pro.
However, Apple retains the exclusivity of certain applications such as forScore, Newzik, Launchpad or GarageBand.
Are the arguments listed above too obscure and the decision seems too complex? There is a very simple way to choose a tablet, and it depends on your mobile phone:
If you use an Android phone (Samsung, Xiaomi, Oppo, etc.) and are happy with it, choose an Android tablet. Now all you have to do is install MobileSheets (via the Play Store) to start reading sheet music.
If you own an iPhone and are happy with it, choose an iPad Pro. Install forScore via the App Store to start reading sheet music.
This way, you will already be familiar with the interface, and it will be easier to get started. However, consider this method as one argument among others: it is entirely possible to use an Android tablet for music if you have an iPhone, and vice versa.